Hydraulic hoses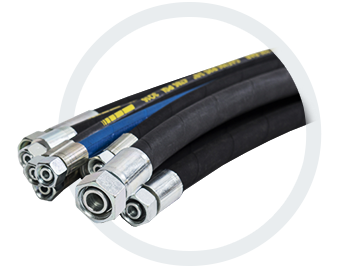 Hydraulic hose assembly plant
Our plant utilises special technology enabling it's production capabilities to match the demands or the biggest orders. Used technology provides very high productivity in production of big lots.
Pressing of the fittings/ferrules is made on semiautomatic presses. There are 11 semiautomatic presses installed in the company. Their priority is on high production and constant high accuracy. Both gathering and pressing are performed within one holding in collets. Gathering is performed under high temperature while the rubber is plasticized, drawn together and the outer wired braiding remains quite undisturbed.
The company has been in production of high pressure hoses for 30 years. The overall production capacity is 150,000 pieces of assembled hoses per month.
Assembled hoses are tested minimally for 2.5 times their operating pressure. Each delivery is accompanied with a test statement.
For production we use rubber hoses from various European manufacturers, in principle based on customer requests. Moreover, we launched on to the market our own brand of rubber hydraulic hoses named Tribalflex. Fittings used for hose assembling are largely made by our CNC or multi-spindle machine tools.
Hydraulic hoses with couplings
Hydraulic hoses according to DIN EN 853
Hydraulic hoses for hot oil application
Compact hydraulic hoses
Multispiral hydraulic hoses
Suction hoses
High abrasion resistant hydraulic hoses
Compact hydraulic pressure wash hoses
PTFE hoses for high temperature
Thermoplastic hydraulic hoses
Hose protection
Couplings for high pressure hydraulic hoses according to DIN EN 853
Couplings for high pressure hydraulic hoses according to DIN EN 856
Documents to download
Photogallery
CHARVÁT Group s.r.o.
Zbraslavice 394
285 21 Zbraslavice
Czech Republic
ID: 27407667
VAT ID: CZ27407667
Phone No: +420 327 591 112
GSM: +420 606 646 415
Fax: +420 327 591 429
E-mail: charvat@charvat-chs.cz