Hydraulic cylinders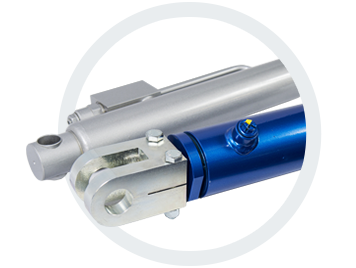 The production of hydraulic cylinders was our answer to client requirements to provide complex deliveries from one point. Hydraulic cylinder parts are produced on new, productive machines.
Hydraulic cylinders are one of the components of the hydrostatic system, where energy is distributed in a closed circuit with the power of pressurized fluid. Hydraulic cylinders convert pressurized fluid energy into mechanical energy (linear mechanical force into linear movement).
We design and produce hydraulic cylinders according to customer´s requirements.
Single acting cylinders
Double acting cylinders
Extension (mechanical stress-pressure and buckling)
Retraction (mechanical stress-tension and buckling)
Double rod cylinders
Frequently used as steering cylinders
Piston rod mechanical stress in tension both ways and not buckling
Tandem cylinders
Connection of two cylinders where movement of one cylinder rules movement of the second one
For double strokes – up to 8 000 mm
Telescopic cylinders – Single/Double acting
For long strokes with small closed centre dimension
Single acting cylinders with sequentual (step-by-step) extension
Double acting cylinders with even synchronised extension of stages
Hydraulic cylinders screwed (ex. per ISO 6022)
Hydraulic cylinders for harsh conditions
Easy to service and part changing due to modular system
Cylinders featuring integrated hydraulic components
End position cushioning
Check valves
Load control valves
Speed limiters
Piston head position control
Documents to download
Photogallery
CHARVÁT Group s.r.o.
Zbraslavice 394
285 21 Zbraslavice
Czech Republic
ID: 27407667
VAT ID: CZ27407667
Phone No: +420 327 591 112
GSM: +420 606 646 415
Fax: +420 327 591 429
E-mail: charvat@charvat-chs.cz