Hydraulic screw fittings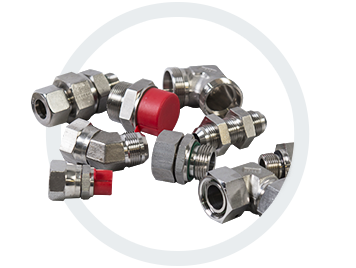 Fittings are used to connect hydraulic circuit lines an constitute an important part of the hydraulic system. From the strict requirements on sealing joins we emphasize on high quality. Therefore we use fittings from renowned European manufacturers including a German producer WALTERSCHEID EATON, or we produce it ourselves.
Fittings are available according to norm DIN2353, fittings for flared pipes according to SAE J514 34° UNF and adapters with threads 60° BSP. All supplied fittings are available in stainless steel for specially designed applications or for high temperatures with VITON seal.
Hydraulic screw fittings
This is a commonly used fitting for a cutting ring. The connecting threads are in metric according to DIN3861, seal for hoses/pipes have tapered bearing surface 24°. Fitting is according to pressure divided into three series: series LL up to 100 bar, series L up to 500 bar, series S up to 800 bar.
Hydraulic fittings SAE J514 37° UNF
The fittings for bordered pipes and hoses with thread UNF 37°. Furthermore for adapters with BSP 60° Tapered threads.
Stainless steel hydraulic fittings
All fittings are supplied in stainless steel. Fittings are produced from stainless steel 1.471 according to DIN17440.
Hydraulic fittings WALTERSCHEID EATON
We supply hydraulic fittings from a German producer with a long tradition WALTERSCHEID EATON.
If you can't find the right fitting in the catalogue, you can contact our product manager.
Documents to download
Photogallery
CHARVÁT Group s.r.o.
Zbraslavice 394
285 21 Zbraslavice
Czech Republic
ID: 27407667
VAT ID: CZ27407667
Phone No: +420 327 591 112
GSM: +420 606 646 415
Fax: +420 327 591 429
E-mail: charvat@charvat-chs.cz