Industrial hoses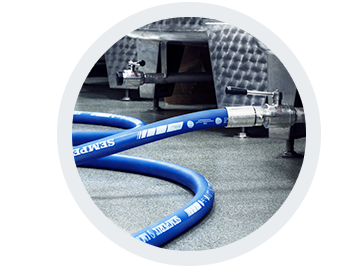 The use of industrial hoses are almost unlimited. Therefore, within the catalogue you can only find a general range mainly from the producer SEMPERIT.
The right choice of hose
In order to guarantee peak performance of the hose, it should be selected according to specific conditions. The following information should help you to choose the right hose (please also state the use when making an enquiry):
Medium (carried substance)
Compounds (e.g. oils, gases and fuels)
Concentrations (chemicals)
Temperature of carried substance (maximum, minimum)
Pressure
Pressure load (maximum working pressure)
Suction (maximum low pressure)
External influences
Temperature
Atmospheric influences
Contact with oil, fatty substances, seawater or other toxic liquids
Strong mechanical abrasion (hose sliding on abrasive surfaces, stones, edges etc)
Hose dimensions
Internal diameter (DN)
External diameter or wall thickness
Bending radius
We supply industrial hoses for the following uses

food quality hoses
abrasive hoses – shot blast hose, concrete pump hose, dredging hose, silo hose, grout and plaster hose
hoses for steam and hot water
hoses for vehicles – break hose, radiator hose, fuel hose, exhaust hose
hoses for water and air
hoses for chemicals
hoses for gas
hoses for sticking out
special models
low pressure couplings and accessories
If you can't find a suitable hose in the catalogue, please contact us and we will help you.
Documents to download
CHARVÁT Group s.r.o.
Zbraslavice 394
285 21 Zbraslavice
Czech Republic
ID: 27407667
VAT ID: CZ27407667
Phone No: +420 327 591 112
GSM: +420 606 646 415
Fax: +420 327 591 429
E-mail: charvat@charvat-chs.cz