Pressure gauges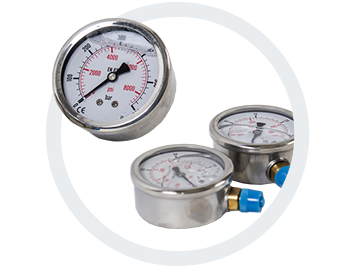 Pressure gauges and gauge fittings are used for monitoring pressure within a hydraulic circuit. The main advantage of this system is a fast convenient connection of the manometer to the hose within a hydraulic circuit. Manometers are impermeable and protected by a cover.
Gauge fittings have connection threads according to DIN2353 like other hydraulic fittings and can be combined together. Manometer fittings are also available in stainless steel.
Manometers
Pressure gauges are available in a stainless steel casing with glycerin fill in the following series:
series M635RL and M638PBL pressure gauges have an external diameter of 63 mm and connection thread either bottom RL or back BPL BSP 1/4″. These pressure gauges are the most common.
series M105RL and M108PBL pressure gauges with an external diameter of 100 mm and connection thread either bottom RL or back PBL BSP ½".
Gauge hoses
Measuring gauge hoses are available in standard lengths : 200, 400, 630, 800, 1000, 1500, 2000, 2500, 3000 and 4000 mm. Upon customer request we can produce any length in combination with different ends.
Manometer fittings
series CMK20 fittings with connection thread M16x2
series CMK15 fittings with connection thread M16x1,5
series CMK12 fittings with connection thread M12x1,5
Upon request the following gauge fittings are available:
series STECKO
pressure test kit
If you can't find the right fitting in the catalogue, please contact our product manager.
CHARVÁT Group s.r.o.
Zbraslavice 394
285 21 Zbraslavice
Czech Republic
ID: 27407667
VAT ID: CZ27407667
Phone No: +420 327 591 112
GSM: +420 606 646 415
Fax: +420 327 591 429
E-mail: charvat@charvat-chs.cz